iSimangaliso Wetland Park estuarine system water has dropped
Water levels in iSimangaliso Wetland Park estuarine system has dropped, this is after  the heavy rainfall that was experienced in KwaZulu Natal during the months of April  and May which raised the water level of Lake St Lucia with 601,7mm and 203,5mm being measured respectively. This was the highest rainfall measured for the month of  April since 1953.

Heavy rains resulted to the increase in water levels within Lake St Lucia which flooded local infrastructure at Siyabonga tourism centre such as Jetties and some roads and picnic sites in False Bay. This has been the fullest the lake has been since Cyclone  Domoina in 1984 which is almost 4 decades. These Heavy rainfall affected the  operation of the park as there were no basking areas for Hippos, Crocodiles and it was difficult to be seen by tourists on boats.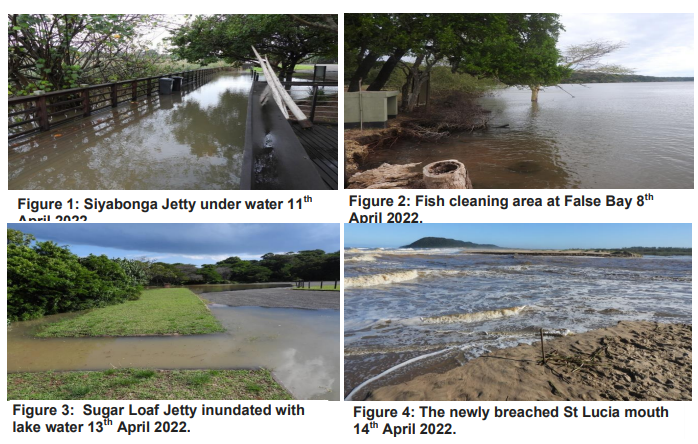 The Wetlands of both Eastern and Western Shores were all inundated with water. The  terrestrial animals finds their grazing habitats under water and they had to search further afield for additional grazing. The Mangrove trees; mainly Hibiscus and Acacia  trees continued to die as their roots have been flooded with water for many years.  Some trees that are on the edges of the lake did stress and some died because of this  flooding. These heavy rains did not only affect the park negatively but also positively  as it has served as the catalyst in resolving the issue of opening the estuary mouth.  The water pushing from Umfolozi and Msunduzi rivers made it possible for the mouth to breach naturally on the 14th of April 2022. The issue of the estuary mouth opening has been a topical issue as various interest groups were airing their views about  whether to breach artificially or to wait and give time for natural breaching. 

The lake level in the narrows of the lake has been full for a while now and after the rainfall event of April this was elevated to nearly 3m on the gauge plate at the St Lucia  bridge. 

End